Spargle meets Marieke Coumans
Marieke is as happy as you can get when every year is different and challenging. That's why she flourishes as a freelancer. Every year she works for a different company, and these are not júst companies. To name a few: ING, NS, and as of now People Intouch. With her two kids and husband, Marieke explores the world in the most adventurous way. Some of those trips include biking through Thailand, discovering Italy for seven months, and enjoying Bonaire.
Book: Shoe Dog by Phil Knight
Quote: Work hard, play hard and the Nike one: just do it!
Inspirator: Mum & Dad
Documentary: Octopus my Teacher
"The triangle of product, IT and design have to complement each other in order to be a successful team"
At work, what brings you joy?
I just love my job. I had to make a decision whether I wanted to evolve myself towards a managing position or further dive into being a product owner. I chose the second option. I meet my constant need for challenge and change by frequently changing sectors. Besides that, the companies differ from big companies like ING, all the way to super start-ups like Amaze Mobility. I know my profession very well, but the challenge lies in getting to know your new surroundings. 
What kind of problems have you come across as a product owner?
For me it's very important to know how mature the team is. The triangle: product, IT and design have to complement each other in order to form a successful team. I know my capabilities, without a strong product designer, I'm nothing. This also applies to the tech team. As a product owner you can have beautiful ideas, but they're useless if no one can translate them to a good design. If the translation to IT is similarly lacking, it's very difficult to build a game changing product.
"Transparency is key to get people on board and to create credibility"
You say to do your job well, you need a good team. How do you always make sure to get the best out of everyone?
During the application processes I conduct to form a team, I get into meaningful conversations to find out whether we are on the same page in terms of communication. I quickly feel whether it's going to work or not. You have to be strict and especially honest if someone might not be good enough to reach your end goal. The same honesty amounts to when I'm in an application process myself: the company should be open to my way of working.
What advice do you find extremely valuable considering building and managing teams?
Transparency is key to get people on board and to create credibility. A method of being transparent is the use of demos. In these demos the whole triangle – product owner, IT, designer – is represented with an equally important message, where there's also room for things that are not going as planned or need more time. I use two types of demos. The 'develop' demo and the 'stakeholders' demo. In the first, I go through the details of each story that has been built with the core team. The latter, the stakeholders demo, is where I see myself as the marketeer of the IT and design team. It is not interesting for all stakeholders to know every little detail of all steps, so I adjust what I am communicating about our progress to the needs of the listeners.

What are crucial aspects of implementing a transformation within a company for you? 
Having a good relationship with important stakeholders on a personal level. You have to have a feeling of trust on both sides. This way, I think you can make decisions much faster and when you trust someone, you have a different perspective on the matter. Trust makes it easier to ask all the questions you want, to plan ahead and to positively look forward.
And considering your own team? 
Within doors I'm critical towards my IT team, but for the outside I will always stand by my own team and defend IT. Even though I am on the business side, I feel much more like one of the IT'ers.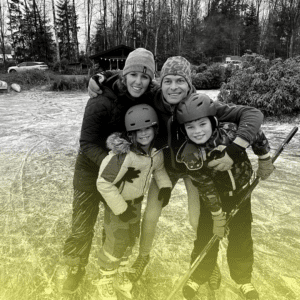 Marieke with her husband and two kids having fun on the ice.
How did you keep your stakeholders and your own team satisfied during transformation? 
I think it's important to show confidence towards the outside but also within the team. Besides that, I think it's crucial to leave the responsibility where it belongs. So I'm not going to sit in the chair of a developer or do the work of the designer. I can be critical and ask questions, but the strength comes from when people do what they do best.
What advice would you give to someone who's working on a transformation within his own company?
Find your own style. For example I'm not necessarily the person you need when it comes to the fine details and content, because there are people who work much longer at the company than I do. My strength is the ability to have useful conversations and create personal connections with people that have the expertise and knowledge I need to improve the product. Instead of the details, I always focus on the bigger picture.